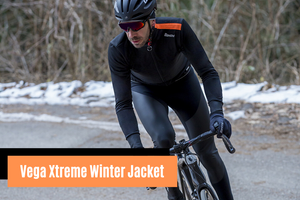 The 
Santini Vega Xtreme jacket
 is an exciting addition to our stock of winter riding apparel, and presents a pinnacle piece of high performance outerwear for serious year-round cyclists. Santini's Vega line of cold climate cycling apparel is designed so you can ride in the harshest weather conditions. 
Layering garments in cold weather has always been an integral part of maintaining a comfortable body temperature. However, thanks to advancements in modern fabrics, we're now able to layer a little differently - we're able to wear fewer layers. Fewer layers means feeling less bulky in winter wear, and for athletes, the ability to move more freely when every movement counts. Today, Italian base layer manufacturer 
Outwet,
 is leading these advancements with their garments.