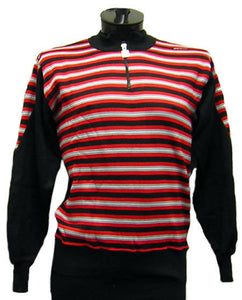 Saturno Vintage Italian Wool Sweater Red by Santini
Santini
Regular price $39.95 Sale
Classic Wool blend cycling sweaters from the a producer of some of the best cycling gear available. For long training miles in the winter, to a quick ride down to your local brewery, these sweaters will look good on and off the bike.
Wool keeps you warm even in wet conditions, and the tight knit will help with mitigating light wind chill as you ride. These are cut very generously, by Italian standards, but will still fit a little tighter than true to size. It's best this way as there is a little give with the material over time. 
These were produced in the late 90's but were stored at Santini's warehouse for years until we picked them up en masse at a great deal. Originally retailing at over $120, we're closing these out for $39.95! Complete that classic look and enjoy riding no matter the weather!
%80/%20 Wool/Acrylic
Quarter Zip
Generous Classic Cut
Reinforced Cuffs
2 Zippered Back Pockets
Made in Italy