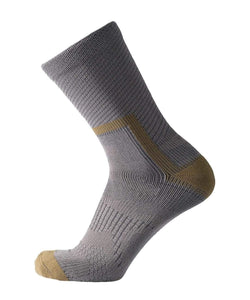 Crosspoint Ultra-Light Waterproof Crew Socks Grey/Fatigue by Showers Pass
Showers Pass
Regular price $39.95 $29.95 Sale
Don't let cold wet feet ruin your outdoor fun!  Showers Pass developed Crosspoint Waterproof Socks to solve the soggy toe problem and to keep your feet dry while cycling, running, hiking, any outdoor activity in the rain. 
Their socks are fully waterproof thanks to 3-layers: a wear resistant knit exterior (feels like a regular sock), a waterproof breathable Artex membrane, and a Coolmax FX moisture wicking anti-bacteria lining.  
The result is a sock that feels like a sock but protects like a rain bootie.  Now you don't have to choose between keeping your feet dry and breathability (we don't like sweaty feet either). 
Sizing:
Small/Medium (SM/MD)   
US Men 6-7 / US Women 7-9 
Euro 37-40
UK 5-6.5

Medium/Large (MD/LG)   
US Men 7-10 / US Women 9-12 
Euro 40-44
UK 6.5-9.5

Large/Extra Large (LG/XL)   
US Men 10-12  
Euro 44-46
UK 9.5-11