Grab your chocolates and set your watch for cycling's next big race after the Dauphiné - the Tour de Suisse. Pegged as one of the key lead-up races to the Tour de France, the eight-stage Tour of Switzerland provides it's own promise of exciting bike racing.
Premier Italian cycling apparel manufacturer, Santini is once again the official clothing provider of the Tour. For the event Santini manufactured the four official jerseys and two special kits for two stages of the race and the jerseys for the TdS Challenge, which are open to amateurs and follow the race stages.
The Climb Kit
We stocked this special kit for it's modern take on a classic design. Drawing influence from the core principles of classic Swiss graphic design, this jersey features a clean, striking layout – an uncluttered presentation with a clear-cut and minimalist aesthetic.
The short sleeve jersey (Tono UV model with full zip) principle colors are intended to convey just enough recognition of Switzerland, and its flag. On the rear of the jersey Santini has included the names of all the stage locations and the altitude at which they sit. And yes, five of the eight stages are above 1000 meters (3,280'). Remember, it's the CLIMB kit. Those stages go up into the Alps until summits meet sky.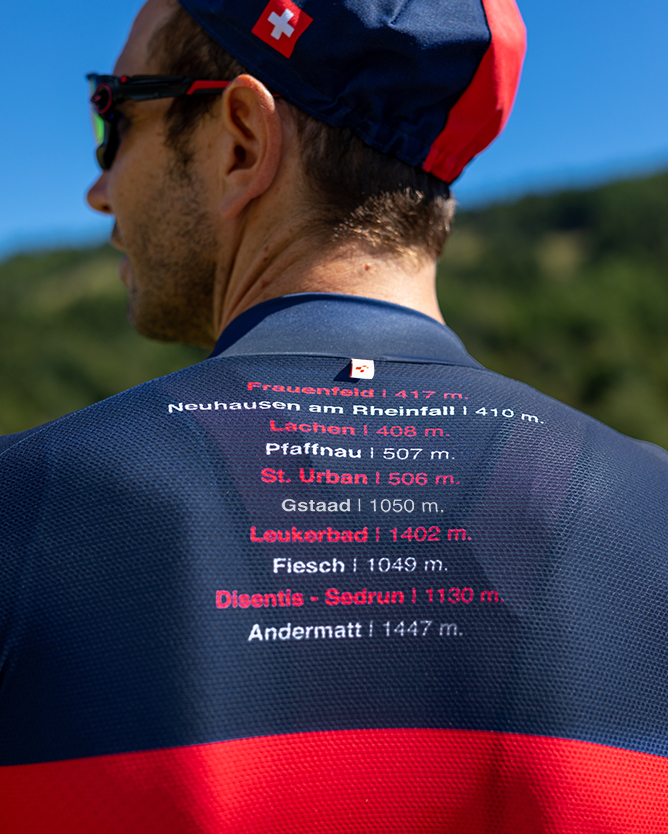 The pairing Karma style bib-shorts, engineered to give you the edge on the competition. Secure fit on the leg thanks to the new beehive shaped silicone grip. Ventilation and comfort assured with the Polartec®'s Delta extremely breathable mesh braces. All day comfort GITevo chamois with anti-shock Twist gel core. 
Lastly, complete the kit with matching summer gloves. Lightweight and breathable with anti-shock palm for incredible comfort during your ride.